Meet the FOIC Team
We are a progressive group of Celebrants.
When it comes to ceremony and ritual we are experts in our field.
The Fellowship of Independent Celebrants Ltd (FOIC)
was founded by David Abel, one of the busiest and most experienced Celebrants in the UK.
FOIC Structure
FOIC have a management team to take care of the day-to-day running of the company. Collectively the team bring skills and expertise in Legal structures, Governance, Accounting & Finance systems, Administration systems, Marketing & Sales campaigns and Development of Nationally Accredited Training programmes.
FOIC Management Team include Diane Richmond, Glenda Procter and David Abel.
FOIC Management Team members are also Course Leaders and Experts in Celebrancy Training. They have extensive experience in writing and conducting ceremonies. David Abel our Founder, Managing Director & Senior Course Leader has almost 40 years of personal experience conducting weddings and funerals.
FOIC is Different To Other Celebrant Organisations.
If you need to contact us we are on the other end of the phone! You also have unlimited email communication with the team - should you experience any difficulties or just want to ask a question!
- Yes you can reach us on the telephone.
- Yes you can email your dedicated team member direct.
- Yes you have the team member's mobile phone number.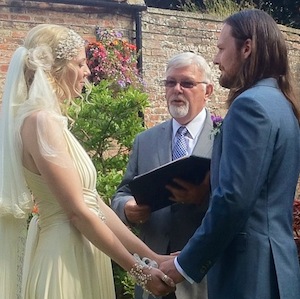 David is a FULL TIME Celebrant ... CEO and Founder of FOIC
Led by its founder David Abel, he is supported by fully qualified and experienced staff to ensure exacting national standards are met. We have grown from strength to strength. David Abel himself embodies everything that the organisation stands for having integrity, strong ethics and a passion for work and equal opportunities which all pave the way for continued success.
David's background is ordained clergy (Methodist tradition), so he is well versed with church services and liturgy. Taking early retirement (when aged 50) he introduced heartfelt, people-centred ceremonies offering an alternative to the church and registry office. David also officiates ceremonies at Stonehenge, inside the stone circle which has been closed to the public since mid 1970s. Sunrise & sunset ceremonies are his speciality.
In April 2015 David opened 'Sleeping Angels', a celebrant led funeral company specialising in miscarriage, stillbirth and baby death.
Diane Richmond
Diane was one of the first celebrants trained by David.
Diane is a Director of the company, a tutor and assessor. She povides Wedding & Funeral Training.
December 2017 Diane pioneers the FOIC Training Centre in Paphos, Cyprus.
Glenda Procter
A former Deputy Registrar in East Sussex, Glenda brings a wealth of experience to the wedding training courses. Glenda is a tutor, assessor and IQA with our NOCN Accredited courses. Her love of learning and teaching has been part of her whole life.
Outside of celebrancy Glenda is a practising energy healer with KIHA and a registered tutor. She attends the Glastonbury Festival each year working in the Healing Fields where she also conducts Handfasting ceremonies for couples celebrating their love.
Her academic studies have always been interspersed with outdoor pursuits and hobbies, mainly horse riding. Her love of horses led her into the role of trainer and examiner for the British Horse Society riding and road safety qualification.
Glenda has served on numerous committees and groups, including chairing many. Glenda is a member of several professional bodies.
Samantha Goodchild
Sam is an ordained Interfaith Minister based in Sussex.
She works closely with several funeral directors in the area and is preferred wedding celebrant at a number of venues in East Sussex and Surrey.
Prior to training to be a minister, Sam worked as a training consultant for over fifteen years, training, mentoring and developing people in the corporate world. She is passionate about delivering training to high standards.
Outside of celebrancy she provides a range of homoeopathic treatments, meditation and mindfulness tuition and Satvik Energy Therapy treatments.
Sam specialises in funeral training with FOIC. Qualified Funeral Trainer, Assessor and IQA.
FOIC Code of Ethics
We encourage all FOIC Celebrants to high standards of ceremony.
▪ We believe in providing ceremony to acknowledge all life celebrations and significant events.
▪ We believe in preserving the right of personal choice and decision in ceremonies.
▪ We believe in maintaining the highest standards of business, professional and personal conduct reflecting the training provided by FOIC.
▪ We believe in maintaining truth, accuracy, dignity and integrity
▪ We believe in serving every client with respect, sensitivity and professionalism
▪ We believe in meeting our client for a no-obligation interview to discuss services prior to engagement.
▪ We believe in providing a service that recognises the unique personalities of our clients, being sensitive to their needs, wishes, values, philosophical and spiritual beliefs and cultural backgrounds.
▪ We believe in providing unlimited consultation to our clients while creating their ceremony.
▪ We believe in maintaining cultural awareness with our ceremonies and services
▪ We believe not to discriminate on the basis of gender, race, religion, philosophy of life, ethnicity, national origin, age, disability, or sexual orientation.
▪ We believe in preserving the 'trade mark' of FOIC Celebrants and will not use business names of fellow FOIC Celebrants.

FOIC Mission Statement
▪ FOIC's objective is to strive to offer the best quality training possible.
▪ FOIC's intention is to develop an organisation of quality and integrity that offers our students nationally endorsed qualifications in a flexible learning environment.
▪ FOIC's goal is to develop an organisation with a level of excellence. We want to develop new and innovative ways to market and implement our training, and be at the cutting edge of the celebrant industry.
▪ FOIC is dedicated to training professional Independent Celebrants to officiate at personalised ceremonies marking the milestones and transitions in the lives of individuals, couples and families.
▪ FOIC desire to be known for delivering superb heartfelt ceremonies such as weddings, renewal of vows, commitments, coming of age, child namings and adoptions, end of life celebrations and special occasions.
▪ FOIC's mission is for their Celebrants to work closely with clients in creating a ceremony that reflects their tastes and values.
▪ FOIC Celebrants are happy to assist in advising various aspects of the ceremony such as location, music and rituals.
▪ FOIC Celebrants encourage clients to draw on any traditions, non-religious or religious, which are meaningful to them.
▪ The FOIC Web site is designed to help you learn more about our Celebrants and the ceremonies they offer.
▪ Finally, if you're interested and inspired, FOIC invite you to join us, and become an Independent Celebrant.