Funeral Celebrant Training Course
Train to Become a Certified Funeral Celebrant (Level 3 RQF)
Classroom or Online - NOCN (UK) Accredited Syllabus
Whichever option you choose, Classroom or Distance Learning (online) ~
FOIC will provide the training to fully equip you as a Civil Funeral Celebrant.
FOIC suggest you not only research your training provider, but also determine whether there is sufficient work for a new funeral celebrant in your area. We suggest you telephone your local crematorium and ask them whether there is sufficient work in the area for a new celebrant.
Many parts of the country there is a shortage of celebrants. Call the crematorium, ask to speak to the Manager, introduce yourself and be honest with them. Tell them you are considering celebrant training and seek their expert advice.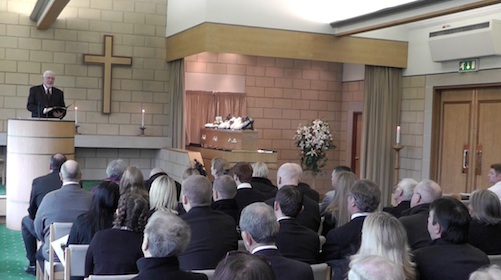 CLASSROOM Training: Learn from the ground floor up when you attend a classroom location of your choice for 3 amazing days. FOIC will 'hone' your presentation skills - making you truly outstanding as a celebrant. Upon completion of just three days in class, you will be looking forward to conducting your very first funeral service.
'ADDED VALUE' Learning: skills well above and beyond the NOCN accreditation requirement will be provided in the classroom. You will be trained to exceed the expectations of the bereaved family and Funeral Directors.
ONLINE Training: Celebrants training online, desiring accreditation, need to attend a classroom location for half a day to demonstrate proof of proficiency in the skills and knowledge learned.
Funeral Celebrant Training that Really Works!
The curriculum covers articulating the Value of the Funeral, Listening Skills, Family Meetings, Service Planning, Music and Readings Resources, Creative Writing, Closing Ceremonies, Master of Ceremonies, Presentation Skills, and Developing the Celebrant Concept in the Community.
When we began planning our training programme we outlined what we thought were the most important elements for any person serving as a Celebrant to know.
We knew that we would be training a wide variety of people - funeral professionals, clergy, teachers, medical professionals, retirees, bereavement specialists, even a clown and puppeteer and the list goes on. But we wanted everyone to start at the same place when we discussed 'grief and the funeral' - and what a personalised service offers to families.
Day One: FOIC are such passionate believers that the funeral service itself in an important and sacred first step in a person's grief journey that we want every one of our Celebrants to be well grounded in the value of the funeral - the elements that are important to grieving families and how to listen to and work with each family.
So, this is what we cover on our first day of training. (A person can find courses in ceremonies and creative writing in a variety of training settings). We believe what is most important is adding the aspect of grief and how to deal with that most unique emotional response.
This is just one aspect that makes FOIC different to the other training providers!
Day Two: The second day of training is focused on the logistics of putting a ceremony together - how to facilitate a family meeting, the art of ceremonial writing, the process of consultation and service planning, how to work with funeral directors, how to utilize and find resources, music, readings, and all the other elements that can be included in a service.
Day Three: The third day of celebrant training is focused on practical application. Each of the celebrants in training takes part in a funeral presentation created from an assigned scenario. Each celebrant creates a life story and from that story designs a complete funeral service and conducts it. The participants can learn a great deal from watching their fellow celebrants and observing how they chose to put a service together. Whenever possible we arrange for people to attend the presentations, providing feedback to the celebrants. This provides a far more realistic scenario and thereby further preparing the celebrants for their first funeral service amongst 'strangers'.
We also provide each Celebrant with superb Resources - containing sample services, ceremonies and readings.
FOIC offer a place for you to network with each other on the FOIC FaceBook Group, brainstorm and share stories and mutual support beyond the days of training. We also have regular regional meetings and mentorship days.
You can commence as a Civil Funeral Celebrant immediately following this training
Learn About NOCN (National Open College Network) Accreditation Here
"Hello David, I'm not sure how to say thank you without it sounding too 'slushy', but I just want you to know how much I enjoyed the course, the wealth of information you have given me, the vast experience you have shared and the delightful presenting style you have, made the last couple of days a joy. I am so enthused about starting my new venture. I have grown in confidence. I really did choose the best training organisation in FOIC." Patricia
"Thank you both so much for giving so generously of yourselves during the celebrancy training last week. It was a remarkably rich experience, with an extraordinary group of people. I'm also deeply appreciative of the funeral and wedding resources that you have emailed. It feels good to have so much material available". Anna
Level 3 Certificate Celebrancy in UK (RQF)
'An amazing three days I loved it. Thank you for your passion commitment and great teaching'. Joan Woodley
Just want to say how excellent the Banbury training was. It far exceeded my expectations and has left me feeling very excited about the future. I want to put my new found skills into practice as soon as possible and cant wait. Steve G (Funeral Director)
"I undertook my FOIC training with David Abel in Banbury. The work was INTENSE. I cannot share with you the details of this extraordinary training, it is far too deep and strange and intimate. What I can share is this: a group of 7 seemingly disparate Souls were called by the Universe to show up, be there, and remember each other. We threw off our masks, unfurled our wings, opened our hearts and voices, we created a unified field of what I understand to be Love. Not that soppy sentimental stuff, but truly heartfelt connection and re~membering. At times it was raw and gritty, and times so tender we dared not speak for fear of bruising each other with our breath. We drew together in Oneness". Alison
---

TRAINING DATES 2018
Funeral Classroom Training - 3 Days - £1,182 (incl VAT at 20%)
SAVE MONEY - BOOK BOTH COURSES - only £1,990 (incl vat at 20%) (2,244 Euros)
Course Fees include vat. Mix and match course dates.
NOCN Accreditation Fees included
2018
Feb 12-14th Croydon - (Hallmark Hotel, CR9 4LT) - Course FULL
March 19-21st Leeds - (Inigo), Vicarage Chambers, 9 Park Square East, Leeds LS1 2LH - 1 place available
April 16-18th PAPHOS, CYPRUS - Dionysos Central Hotel, 1 Dionysos Street, 8101 Paphos (1,333 Euro)
April 16-18th Northampton - (Crossroads Hotel, Weedon, NN7 4PX) - 4 places available
April 30-May 2nd Cheltenham - (Ellenborough Park, Southam Road, GL52 3NJ) - 1 places available
May 7-9th PAPHOS, CYPRUS - Dionysos Central Hotel, 1 Dionysos Street, 8101 Paphos (1,333 Euro)
May 21-23rd Croydon - (Hallmark Hotel, CR9 4LT) - 5 places available
June 4-6th Newcastle - (Jurys Inn, South Shore Rd, Gateshead NE8 3AE) - 6 places available
July 2-4th Northampton - (Crossroads Hotel, Weedon, NN7 4PX) - 6 places available
August 13-15th Cheltenham - (Ellenborough Park, Southam Road, GL52 3NJ) - 6 places available
Sept 17-19th Leeds - (DoubleTree by Hilton, Leeds, LS1 4BR) - 6 places available
Oct 8-10th PAPHOS, CYPRUS - Dionysos Central Hotel, 1 Dionysos Street, 8101 Paphos (1,333 Euro)
Oct 22-24th Northampton - (Crossroads Hotel, Weedon, NN7 4PX) - 6 places available
Nov 5-7th PAPHOS, CYPRUS - Dionysos Central Hotel, 1 Dionysos Street, 8101 Paphos (1,333 Euro)
Nov 12-14th Croydon - (Hallmark Hotel, CR9 4LT) - 6 places available
Dec 3-5th Northampton - (Crossroads Hotel, Weedon, NN7 4PX) - 6 places available
Dec 3-5th PAPHOS, CYPRUS - Dionysos Central Hotel, 1 Dionysos Street, 8101 Paphos (1,333 Euro)
please email your preferred venue and date when paying the non-refundable deposit
SAVE MONEY - BOOK BOTH COURSES - only £1,990
Course Fees include vat. Mix and match course dates.
NOCN Accreditation Fee of £200 is included
Deposits are non-refundable

Wedding Classroom Training - 2 Days - £995 (incl VAT at 20%)
SAVE MONEY - BOOK BOTH COURSES - only £1,990 (2,244 Euros)
Course Fees include vat. Mix and match course dates.
NOCN Accreditation Fees included
2018
Feb 15-16th Croydon - (Hallmark Hotel, CR9 4LT)
March 22-23rd Leeds - (Inigo) Vicarage Chambers, 9 Park Square East, Leeds LS1 2LH
April 19-20th PAPHOS, CYPRUS - Dionysos Central Hotel, 1 Dionysos Street, 8101 Paphos (1,333 Euro)
April 19-20th Northampton - (Crossroads Hotel, Weedon Bec, NN7 4PX)
May 3-4th Cheltenham - (Ellenborough Park, Southam Road, GL52 3NJ)
May 10-11th PAPHOS, CYPRUS - Dionysos Central Hotel, 1 Dionysos Street, 8101 Paphos (1,333 Euro)
May 24-25th Croydon - (Hallmark Hotel, CR9 4LT)
June 7-8th Newcastle - (Jurys Inn, South Shore Rd, Gateshead NE8 3AE)
July 5-6th Northampton - (Crossroads Hotel, Weedon Bec, NN7 4PX)
August 16-17th Cheltenham - (Ellenborough Park, Southam Road, GL52 3NJ)
Sept 20-21st Leeds - (DoubleTree by Hilton, 2 Wharf Approach, Leeds, LS1 4BR)
Oct 11-12th PAPHOS, CYPRUS - Dionysos Central Hotel, 1 Dionysos Street, 8101 Paphos (1,333 Euro)
Oct 25-26th Northampton - (Crossroads Hotel, Weedon Bec, NN7 4PX)
Nov 8-9th PAPHOS, CYPRUS - Dionysos Central Hotel, 1 Dionysos Street, 8101 Paphos (1,333 Euro)
Nov 15-16th Croydon - (Hallmark Hotel, CR9 4LT)
Dec 6-7th Northampton - (Crossroads Hotel, Weedon Bec, NN7 4PX)
Dec 6-7th PAPHOS, CYPRUS - Dionysos Central Hotel, 1 Dionysos Street, 8101 Paphos (1,333 Euro)