Online Funeral & Wedding Celebrant Training Course

A 'STEP-BY-STEP' Online Celebrant Training Course -
Regular contact with your Celebrant Training course mentor + Excellent Resource materials.
NOCN Level 3 Registration and Accreditation fee of £200 is included in all course fees
START ANYTIME! Hear what one of our 'online' celebrants thinks..

No additional extras - everything included

FOIC comprehensive online training allows you to 'stand out' and gain a competitive advantage in your celebrant business. The income you can earn through FOIC training your fees will be recovered very quickly!
You can Schedule your Flexibility: Start anytime! You can attend anytime, anywhere you have Web access. You can access course materials 24 hours a day, 7 days a week. This means that parents, working students, and professionals (on the move) have the option of attending classes no matter their work schedule. You only need a computer and Internet access to take online classes.
You will enjoy Ease of accessibility: Courseware can be accessible to you when you need it. You can review lectures, discussions, explanations, and comments. You can access online learning opportunities anytime, and any place you have access to the Internet, from the comfort of your own home and even during summer and holiday breaks.
You'll enhance your ability to communicate effectively through the latest technology. You'll be able to network with other celebrants from a wide range of backgrounds and locations.
You will Control your study time: Lessons can be paused when needed, and notes read at will. Distance learning that really works.
You will have a Dedicated Course Tutor: Your tutor can be more approachable in the online setting. You may feel more comfortable talking openly with your tutor through online chats, emails, and webinars rather than face-to-face. Online correspondence also cuts out having to wait for office hours that may not be convenient for you. You can access instructors immediately through chat, skype, or email, without having to wait for office hours.
You have more Time to absorb material: Positive results are reported for students enrolled in online celebrant training classes. When your online learning experiences takes full advantage of the interactivity and multimedia power of the Internet, you can engage with video lessons, interviews, and online demonstrations of concepts. This wide variety of activity, and question formats, offer a more valuable learning experience than a typical workshop or textbook-based course.
You save Money too: You may be able to save money by not having to physically attend classroom training. Our Online celebrant training course may help you reduce or eliminate costs of transportation, overnight accommodation, babysitting, and other expenses incurred by attending classes in a traditional setting.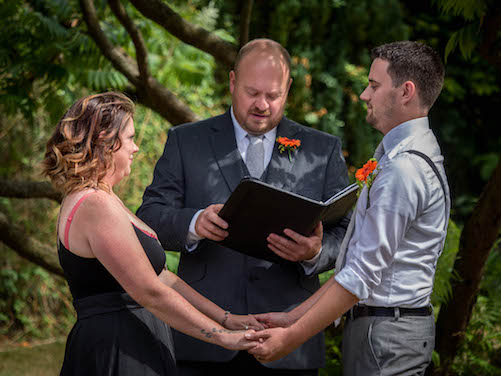 The photo to the left shows newly trained Celebrant, Nick Rout performing his first wedding celebration ceremony.
Nick trained online - with FOIC.

---

TESTIMONIAL Received 3 weeks' following completion of another Celebrant's online training:
"In all three funerals that I have now conducted, I have never known so much personal satisfaction. It may seem bizarre for me to write this, but knowing I have helped the bereaved families get through such a daunting task as saying a physical farewell to a person who meant so much to them touched me to my core. continued/...
TESTIMONIAL .. continued:
I know they will still grieve, still cry and still miss their loved one for many years to come, but giving them that one day where they could face the pain of saying 'goodbye' and see a relief on their faces once that had occurred touched me more deeply and completely than anything I have known. Again, many thanks for giving me that opportunity to be able to call myself an Independent Celebrant, Yours, GJ"
(This celebrant trained online. FOIC will always put you in touch with such celebrants if you wish to check credibility).
---
Immediately commence as a Celebrant as soon as you graduate from either courrse
To complete NOCN Accreditation celebrants training online need to attend a classroom location for half a day to demonstrate proof of proficiency in the skills and knowledge learned.
Difference between Certificate and Diploma courses – find out here
"May I take this opportunity to thank you for your superb mentoring, excellent training and constant encouragement. Your understanding and encouragement have buoyed me up during those times I thought I would struggle to complete the course. Finishing the funeral training has given me a great sense of achievement and although nervous, I can't wait to start working as a celebrant and also begin my next stage of training for weddings. Best wishes."
CG - Sussex
(These celebrants trained online. FOIC will always put you in touch with such celebrants if you wish to check credibility).
"FOIC's on-line course provided me with the perfect foundation on which to build my celebrant business. The courses modular structure is well paced and thorough. I enjoyed the breadth and quality of the content, it is cleverly divided between theory and practice, providing exemplar, flexible training in a full range of civil ceremonies. It inspires further personal research and preparation, working motivationally to encourage and support learning excellence. By not shying away from the sometimes harsh reality of running a business, FOIC's approach is as helpful as it is refreshing. Before commencing the FOIC course, it was with enthusiastic trepidation that I saw myself as a celebrant. Now, thanks to David and his team I can begin my celebrant journey, confidently, eagerly and with a smattering of creative zeal, safe in the knowledge that I have been professional prepared, supported and encouraged. It is with gratitude that I can now call myself a member of the very excellent FOIC family."
BB (Dubai)
It's like Having your personal tutor in your living room with you
LEARN at your own pace.
This will FIT into your schedule. You control your study time.
This will not interfere with your home or work life.
LIFETIME support with FOIC is included.
COURSE materials are INCLUDED.
A DEDICATED tutor will be assigned for your mentorship.
Being an on-line student, something I had never done before was an interesting experience. I wanted to write to say how much I enjoyed and indeed benefited from the class day last week in Banbury. I learned much from the online course.The course is structured in such a way that you are or at least should be able to go out and start your new career once completed.
You kindly reminded me of the opportunity to spend a day at the class. I immediately took this up. I will confess I was nervous about entering a class where students had been already studying together. On arrival it was very clear very quickly that my worries and concerns were completely unfounded. I was welcomed into the group by all and you even made me a cup of tea!!
The day itself was absolutely invaluable!! I know this is an optional part of the course but to me this should be mandatory. I learned so much from being able to discuss and share information, the group project at the end of the day gave me so much belief in myself and confidence to move forward.
I would highly recommend anyone in my position as an online student to take advantage of this. Meeting you and hearing your passion for this career and seeing first hand your support for those that decide to follow this path was inspiring.
I was recommended to specifically do this course by one of your former students and a Funeral director, they gave me very good advice! I know I chose well doing this course and I would recommend it to anyone thinking of following this career path. Gary K