Wedding Celebrant Training Courses
Classroom or Online - NOCN Accredited Syllabus
An amazing two day classroom experience at one of our many locations in the UK.

Whether you choose (classroom or online) you will be given tasks to complete at home. They will include assignments, study and projects, all of which will contribute toward your learning process.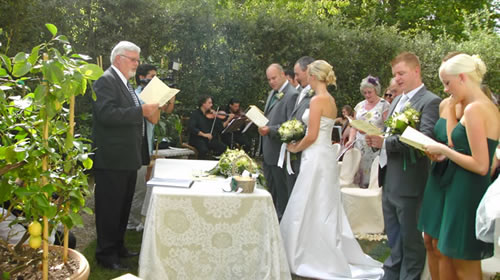 What you will Learn : NOCN LEVEL 3 CERTIFICATE COURSE
The difference between a Celebrant, Clergy and Registrar and The Law
Wedding Celebration Ceremony (traditional - above left) .. Vow Renewal .. Civil Wedding .. Handfasting (above right)
Naming ceremonies
Civil Partnership & Same Sex Civil Marriage
How to develop a good working relationship with the 'couple'
Learn the technique to discover 'their personal story'
Types of Ceremony - Traditional - Modern - Religious - Sand Ceremony - Rose ceremony - Loving Cup - Wine Ceremony
Wedding Etiquette .. The 'giving away' of the Bride
The Role of the Bride's Father, Maid of Honour, Bridesmaids, Best Man and Groomsmen
The Wedding Day: Your Appearance, Timing, Problem solving & last minute check
Suitable Locations and Venues
Marketing and Advertising (that really works)
Professional fees to charge
Collecting of a deposit and payment of the balance
Voice Projection and protection
Public Address Systems
Health and Safety
Equality & Diversity
£5M Public Liability Insurance + £1M Professional Indemnity Insurance
The Legal Aspect: Currently in England and Wales only Registrars and designated religious clergy & officiants can legally complete the paperwork for the marriage documents. This means that (for the time being) this part remains separate to a Wedding Celebration Ceremony.
Couples arrange to visit their local Register Office to formalise the paperwork at a time convenient to them. Most couples make the arrangements a day or two before and attend wearing 'jeans and T shirts' without any guests. We suggest they don't exchange rings before the Registrar. Most wedding guests don't even realise the legal aspect has been completed earlier, and are always pleasantly surprised at how personal their celebrant led service is!
You will leave your FOIC Training course enthused and confident with regard to meeting the couple, discussing, planning and delivering their special day.
Your classroom experience will either be at Banbury Head Office, or CHELTENHAM (Ellenborough Park Hotel, Southam), CROYDON (Hallmark Hotel, Purley Way in London), LEEDS (Doubletree by Hilton Hotel, Granary Wharf), NORTHAMPTON, (Crossroads Hotel, Weedon), or PAPHOS in CYPRUS
FOIC 'hone' your presentation to make you outstanding as a celebrant. In the Classroom we also provide 'Added Value' learning, skills well above and beyond the NOCN requirement.
Online Training: Celebrants training online MUST attend a classroom location for half a day to demonstrate proof of proficiency in the skills and knowledge learned.
Classroom Dates
Level 3 Certificate Celebrancy in UK (RQF)
You can commence as a Civil Celebrant immediately following this training

Wedding Classroom Training - 2 Days - £995 (incl VAT at 20%)
SAVE MONEY - BOOK BOTH COURSES - only £1,990 (2,244 Euros)
Course Fees include vat. Mix and match course dates.
NOCN Accreditation Fees included
2018
Feb 15-16th Croydon - (Hallmark Hotel, CR9 4LT)
March 22-23rd Leeds - (Inigo) Vicarage Chambers, 9 Park Square East, Leeds LS1 2LH
April 19-20th PAPHOS, CYPRUS - Dionysos Central Hotel, 1 Dionysos Street, 8101 Paphos (1,333 Euro)
April 19-20th Northampton - (Crossroads Hotel, Weedon Bec, NN7 4PX)
May 3-4th Cheltenham - (Ellenborough Park, Southam Road, GL52 3NJ)
May 10-11th PAPHOS, CYPRUS - Dionysos Central Hotel, 1 Dionysos Street, 8101 Paphos (1,333 Euro)
May 24-25th Croydon - (Hallmark Hotel, CR9 4LT)
June 7-8th Newcastle - (Jurys Inn, South Shore Rd, Gateshead NE8 3AE)
July 5-6th Northampton - (Crossroads Hotel, Weedon Bec, NN7 4PX)
August 16-17th Cheltenham - (Ellenborough Park, Southam Road, GL52 3NJ)
Sept 20-21st Leeds - (DoubleTree by Hilton, 2 Wharf Approach, Leeds, LS1 4BR)
Oct 11-12th PAPHOS, CYPRUS - Dionysos Central Hotel, 1 Dionysos Street, 8101 Paphos (1,333 Euro)
Oct 25-26th Northampton - (Crossroads Hotel, Weedon Bec, NN7 4PX)
Nov 8-9th PAPHOS, CYPRUS - Dionysos Central Hotel, 1 Dionysos Street, 8101 Paphos (1,333 Euro)
Nov 15-16th Croydon - (Hallmark Hotel, CR9 4LT)
Dec 6-7th Northampton - (Crossroads Hotel, Weedon Bec, NN7 4PX)
Dec 6-7th PAPHOS, CYPRUS - Dionysos Central Hotel, 1 Dionysos Street, 8101 Paphos (1,333 Euro)
Deposits are non-refundable
Funeral Classroom Training - 3 Days - £1,182 (incl VAT at 20%)
SAVE MONEY - BOOK BOTH COURSES - only £1,990 (incl vat at 20%) (2,244 Euros)
Course Fees include vat. Mix and match course dates.
NOCN Accreditation Fees included
2018
Feb 12-14th Croydon - (Hallmark Hotel, CR9 4LT) - Course FULL
March 19-21st Leeds - (Inigo), Vicarage Chambers, 9 Park Square East, Leeds LS1 2LH - 1 place available
April 16-18th PAPHOS, CYPRUS - Dionysos Central Hotel, 1 Dionysos Street, 8101 Paphos (1,333 Euro)
April 16-18th Northampton - (Crossroads Hotel, Weedon, NN7 4PX) - 4 places available
April 30-May 2nd Cheltenham - (Ellenborough Park, Southam Road, GL52 3NJ) - 1 places available
May 7-9th PAPHOS, CYPRUS - Dionysos Central Hotel, 1 Dionysos Street, 8101 Paphos (1,333 Euro)
May 21-23rd Croydon - (Hallmark Hotel, CR9 4LT) - 5 places available
June 4-6th Newcastle - (Jurys Inn, South Shore Rd, Gateshead NE8 3AE) - 6 places available
July 2-4th Northampton - (Crossroads Hotel, Weedon, NN7 4PX) - 6 places available
August 13-15th Cheltenham - (Ellenborough Park, Southam Road, GL52 3NJ) - 6 places available
Sept 17-19th Leeds - (DoubleTree by Hilton, Leeds, LS1 4BR) - 6 places available
Oct 8-10th PAPHOS, CYPRUS - Dionysos Central Hotel, 1 Dionysos Street, 8101 Paphos (1,333 Euro)
Oct 22-24th Northampton - (Crossroads Hotel, Weedon, NN7 4PX) - 6 places available
Nov 5-7th PAPHOS, CYPRUS - Dionysos Central Hotel, 1 Dionysos Street, 8101 Paphos (1,333 Euro)
Nov 12-14th Croydon - (Hallmark Hotel, CR9 4LT) - 6 places available
Dec 3-5th Northampton - (Crossroads Hotel, Weedon, NN7 4PX) - 6 places available
Dec 3-5th PAPHOS, CYPRUS - Dionysos Central Hotel, 1 Dionysos Street, 8101 Paphos (1,333 Euro)
please email your preferred venue and date when paying the non-refundable deposit
SAVE MONEY - BOOK BOTH COURSES - only £1,990
Course Fees include vat. Mix and match course dates.
NOCN Accreditation Fee of £200 is included